Arrow Maxi Race-tech exhaust.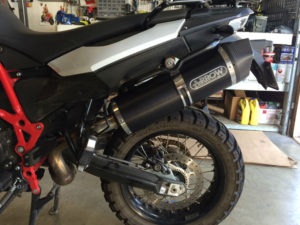 The Arrow Maxi Race-tech exhaust is a pretty good bang for the buck. I installed this aftermarket exhaust on my 2015 BMW F800GS and it wasn't only a quick install (under 30 minutes) but the end result is pretty spectacular for a sub $500.00 exhaust.
The tools required for this installation are minimal, you will need a T45 torx ratchet, a 6mm ex key, a pair of needle nose pliers and a rubber mallet, as I was saying the installation was very quick, one bolt and two springs to be exact. Remove the OEM bolt, unhook the springs and just slide the exhaust right out. Once you have prepped the new Arrow maxi race-tech exhaust by forming the provided bracket around the silencer (by tapping it with a rubber mallet) just slide it on, align it properly put the provided springs on and install the new bolt and the spacers, DONE!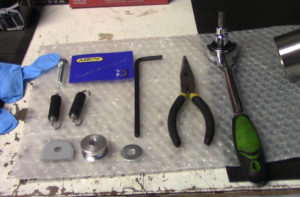 This exhaust does not require a re-flush of the ECU or any other modification of your precious BMW F800GS, just slip it on and enjoy, If you find yourself in need of more power, Arrow actually makes headers that can be added at a later time, obviously at this point you might also want to add a new air filter to provide a higher flow of air to the engine and either re-program the ECU or add an inline fuel controller like a power commander, bazzaz or similar.
At first sight this exhaust system looks un-doubtly beautiful with the flawless carbon fiber end cap and the dark aluminum body, by taking a closer look you might also notice that the build quality is excellent with great materials and perfect welds, but, how does it perform? The performance of the maxi race-tech are second to none, you will be getting an increase in power of about 3 HP and 3.24 Nm of torque which associated with the 5.1 lbs of saving in weight it's a pretty good result by any standard for a plug and play slip-on, and as a cherry on top you also increase the noise level by 2 dB with a deeper and growlyer tone.
In the end this Arrow maxi race-tech exhaust aluminum dark looks very good, provides a little increase in power, a good decrease in weight and most of all a great exhaust note that can be adjusted to your liking by keeping or removing the DB-killer. In my opinion a very good system worth every penny.
I bought mine @