Chain adjustment difficulty level:
Adjusting the chain tension on your bike it's pretty easy, as long as you remember to follow a few simple steps as per the BMW owner's manual, and if you don't want to pull out your manual just keep reading as I lay them out for you.
First let's figure out what tools you are going to need:

OK, let's get cracking, before you adjust the chain it's a good idea to also check the wear and to do that, engage first gear, push the bike forward to put some tension on the chain, then measure the distance between 9 of the chain rivets. If the length is bigger than 5.7 inches (144.3mm) you might need to replace the chain all together.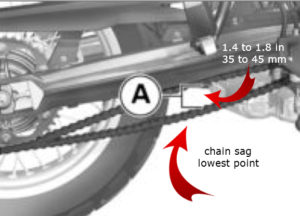 Once you do that, position the bike on its side stand, unloaded, rotate the wheel to reach the chain sag point (lowest point on your chain) and mark it, with a marker or a piece of masking tape. Now get your measuring tape and by pushing up and down on your chain, make note of the distance between the lowest and the highest point. The gap needs to be between 1.4 to 1.8 inches (35 to 45 mm), if not it's time to adjust it.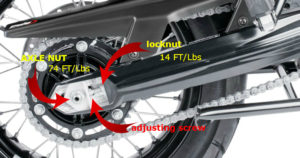 Get your breaker bar, your 24mm socket and loosen up the axle nut, now loosen the locknuts on both sides and via adjusting screws, on both sides, adjust the chain tension to specs. (1.4 to 1.8 inches) Make sure your wheel is straight by checking the markings on the side of your swing arm and tighten the locknuts to 14 FT/Lbs (19 NM), at this point you are nearly done, just tighten the axle nut to 74 FT/Lbs (100 NM) and re-check the chain play.
That's it, now bask in the knowledge that your chain is properly adjusted and crack yourself a cold beverage.